Are you interested in joining Mini Fridge Theatre Company on stage? Then you've come to the right place! Details on upcoming and past audition opportunities are listed below.
NOTE: If you'd like to be notified about future audition opportunities, sign-up for email notifications from our very non-spammy mailing list and be sure to follow @minifridge306 on Facebook and Instagram!
November 2021 auditions
Mini Fridge Theatre Company is seeking talented individuals to take part in the final dinner theatre production of our current season. Performances to be held late March and into early April, 2022.
When and where?
November 27, 2021 @ 5pm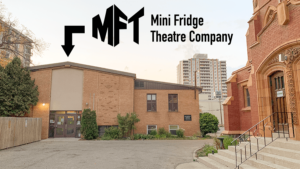 St. John's Anglican Hall
816 Spadina Crescent, Saskatoon, SK
Who we're looking for
We're seeking male and female actors to take on two specific comedic roles for characters in their 20s or 30s. Further details to be provided at the audition.
NOTE: This is not an all-ages open audition. If you aren't able to portray a character of the required age, please sign-up to our mailing list to receive updates on our next general audition call! We have all roles filled for the remainder of the season with the exception of the ones we're seeking at this casting call. 
Interested?
 Those auditioning can feel free to prepare an optional, short comedic piece in advance if desired; however, Mini Fridge Theatre will provide specific audition material for a "cold read" (aka: no preparation required).
Auditions will be held on a first-come, first-served basis. A reference photograph will be taken and you may be asked to complete a brief form to provide your contact information.
Please bring a mask and proof of vaccination with you.
Questions?