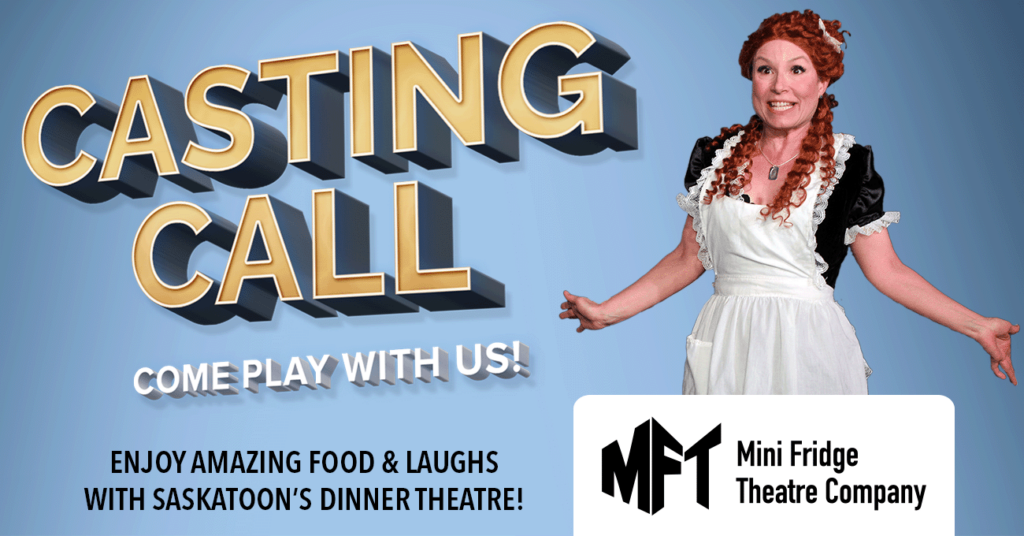 SUBMIT YOUR AUDITION VIDEO TO MINI FRIDGE THEATRE COMPANY
Mini Fridge Theatre Company has simplified the process of participating in Saskatoon auditions!
Why schedule an appointment for a casting call when you can record and submit an audition tape* directly to MFT in three easy steps?
* Yes, that's on old-fashioned term for a video clip 😉
WHO WE'RE LOOKING FOR
Mini Fridge Theatre Company is always on the lookout for exceptional local talent to take on a variety of roles. Depending on the season and show requirements, we might need actors of any age or "type." As long as you've got talent, we want to see it! Audition submissions are currently being accepted year-round.
HOW IT WORKS
1) Prepare a 2-3 minute audition piece that showcases your acting chops.
PRO TIP #1: We want to know what kind of shows or characters interest you, so don't ask us to provide you with a scene or tell you what to prepare. The piece can either be a monologue OR you can have a friend read any other characters' lines from a script off camera.
2) Record your audition video in a clip no more than 5 minutes in length.
PRO TIP #2: If you record your clip with your phone, hold it horizontally so it matches the layout on a television. Be sure to begin your video by introducing yourself and briefly telling us a bit about your interest in live theatre and the piece you'll be performing. After you perform your prepared piece, please tell us the email address we can use to contact you if we have any questions or want to see you for a callback.**
3) Upload your finished video clip — and a photo of yourself — to WeTransfer.com.
Set the recipient as minifridgetheatre@gmail.com and the title/subject as "MFT Audition: [Your Name]." You can also feel free to include an acting resume (but it's not mandatory — MFT is committed to helping develop local Saskatchewan talent regardless of previous experience).
** Please note that we don't contact each and every person who submits an audition; however, because submissions are accepted throughout the year, we may reach out if/when a role comes up that fits your abilities and range—even if it's been a while since you auditioned!