Saskatoon's Dinner Theatre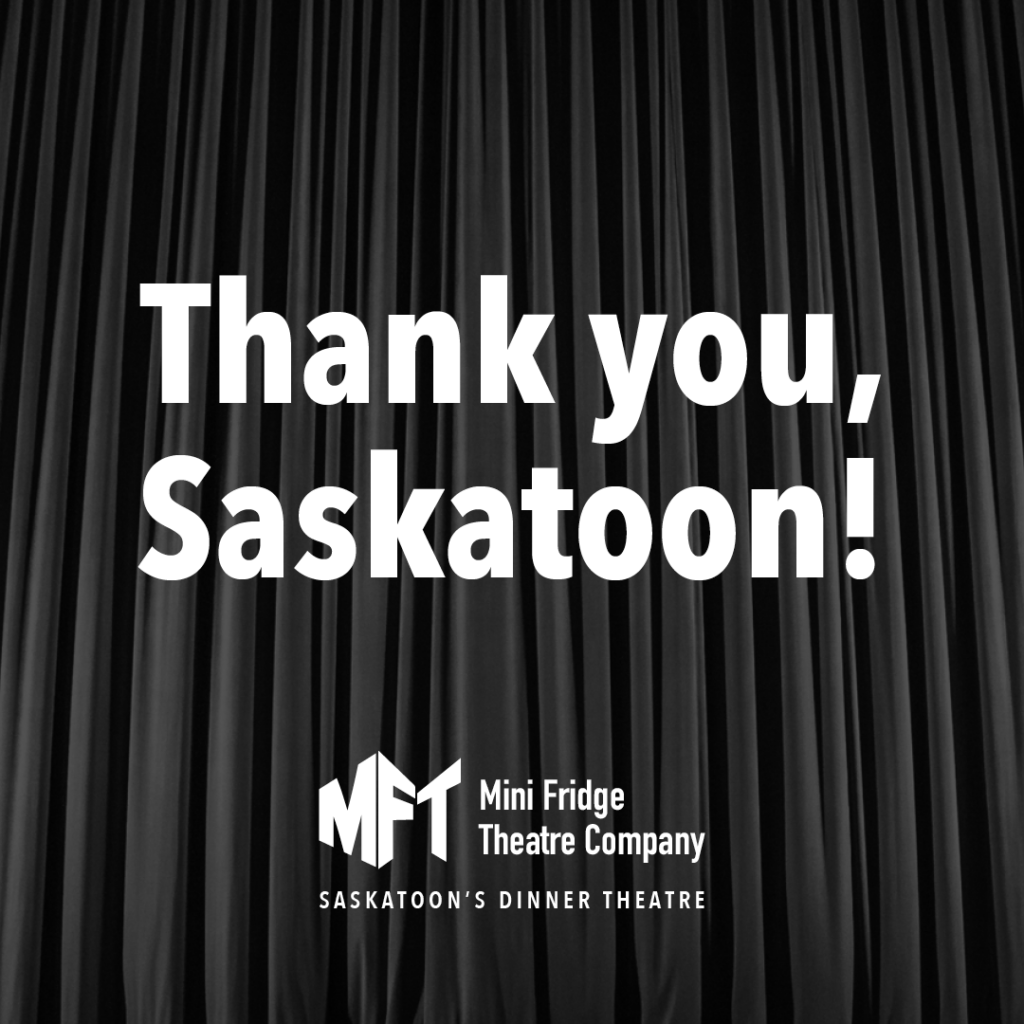 🎭 🍽️ That's a wrap on Season 6 at Mini Fridge Theatre Company! 🤣 🎟️
Thank you to everyone who came out to enjoy amazing food and laughs with us throughout our past season of d
inner theatre
comedies.
We've said it before and we'll say it again — we simply wouldn't be here without your support of live local theatre! Thank you for sticking with us through the pandemic, the postponements, and our evolution into a pop-up theatre company.
In the weeks ahead, we'll begin planning our seventh season of laughs. To receive updates on show announcements, casting calls, and more, join our very non-spammy

mailing list

or follow @minifridge306 on Facebook and

Twitter

.

And keep us in mind if you're looking for corporate events, staff parties, or other private events! Depending on the timing and size of your function, we can look into private performances, customized murder mysteries and more.
Thanks again, Saskatoon! Have a fantastic spring and summer. We'll be in touch with updates once we've had a chance to catch our breath from this whirlwind season!
— Mini Fridge Theatre Company
Proud to be part of the Saskatoon theatre community
Over a century of combined theatre experience was brought together by a handful of Saskatoon actors, directors, and production managers when Mini Fridge Theatre Company was formed in 2016. With credits spanning a number of local and international stage, screen, and television productions, the company's founding members wanted to find a way to foster local talent while bringing a light and fun atmosphere back to the Saskatoon theatre scene.
Mini Fridge Theatre is committed to supporting accessible—yet hilarious—live theatre events and developing diverse talent of all ages. Founded with a vision to cultivate and showcase Saskatoon actors, directors, set artists, sound operators and wardrobe designers, stage managers and more, Mini Fridge brings newcomers and experienced artists together to entertain and entice theatre-loving patrons in this city of bridges that we all call home.
Previous MFT seasons have included productions such as Don't Dress for Dinner, The Foreigner, The Foursome, Last of the Red Hot Lovers, Ethan Claymore, Nobody's Perfect, Run For Your Wife, The Long Weekend, Murder at the Howard Johnson's and the female version of The Odd Couple.
Enjoy amazing food and laughs with Saskatoon's dinner theatre!
Lots of laughs overall [and] a wonderful night out. I am from two hours away and it's worth the trip every time. Keep up the good work.
—Trip Advisor review
GREAT PLAYS!! I have seen 3 different plays here and loved each one of them!! It is great to be able to see local talent perform and escape into an awesome show!! Thanks Mini Fridge!!
—Deborah D
Fast-paced farce and hilarity provided by great local actors will keep you laughing for two hours!
—Phyllis J
Mini Fridge Theatre Company is a fun night out! Tasty food, great plays, colourful characters and reasonable prices. I highly recommend it to anyone looking for something to do. It's like combining the best from a meal and a movie for a complete night out!
—Wendy Hendrickson
$5 off each ticket for groups of 6 and more.
Discounts applied at checkout.
Group discounts available!
$5 off each ticket for groups of 6 and more.
Discounts applied at checkout.
Mini Fridge Theatre Company
PERFORMANCE VENUE:

St. John's Anglican Hall
816 Spadina Crescent East
Saskatoon, Saskatchewan
S7K 3H4
Mini Fridge Theatre Company
PERFORMANCE VENUE:

St. John's Anglican Hall
816 Spadina Crescent East
Saskatoon, Saskatchewan
S7K 3H4