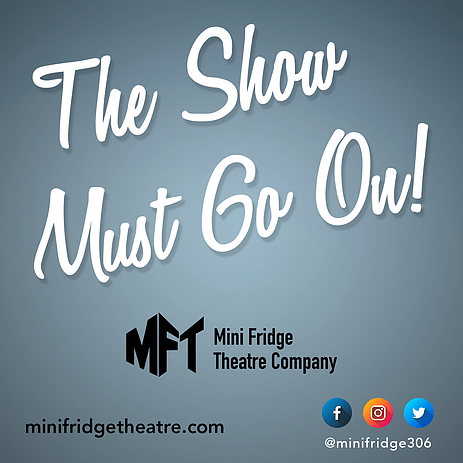 Following our safe return to the stage at a new venue in October 2020, we've been receiving SO much love from Saskatoon and area! Many of you have been asking us about upcoming performances and whether or not we will be announcing a new season. First of all—THANK YOU! Your support and love of local theatre makes everything we do possible. We genuinely could not do what we love without you loving what we do! We could not be more grateful to have your unwavering support throughout the difficult process of navigating pandemic cancellations, losing our previous venue partner, and relocating to St. John's Anglican Cathedral Hall.
As far as announcing a complete season is concerned, Mini Fridge Theatre Company is taking the pandemic very seriously and will always put the health and safety of its team members, audiences, and the general public front and centre. As such, we will not be announcing a complete season in order to avoid presuming the status of public gathering protocols in the months to come.
Due to the way our company and our box office now operate, we believe that it is in the best interest of all involved to prepare and announce one production at a time until public gatherings in Saskatchewan can return to pre-pandemic conditions.
With that said, we can tell you that we will unfortunately not be holding our annual Christmas-themed production this year. The recent surge in COVID-19 cases and the social responsibility we bear to our community compel us to hold off the production we had been preparing—however, we truly look forward to returning safely again in 2021 and will post updates as soon as they can be confirmed.
To remain aware of these updates, please follow @minifridge306 on Facebook, Instagram, and Twitter or sign up to our email updates by visiting our contact page.
Thank you for your patience as we try to do the right thing during a time when we all could really use more laughs and merriment. It is our sincere hope to come back safely once again and bring amazing food and laughs to all of you as Saskatoon's Dinner Theatre.
We love you Saskatoon! Stay safe and, with any luck, we'll see you sooner rather than later!